Trail Running
See the training plan for Spring 2023 here
Trainings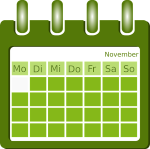 The running club organizes trainings every day at noon, for all levels from beginner to expert, depending on the day.
There is in particular dedicated trainings for beginner/intermediate level every Thursday
If you wish to find out at which speed you should train, see the spreadsheet provided here
Place
The meeting point is the club barracks (bat.565) for a grouped start at 12h10.
On Wednesdays, the training often takes place on the Saint Genis Stadium, an email is sent when it is the case. In such cases, you can either start at 12h00 from the club or meet directly at the stadium at 12h20 already warm
Planning
Note : Thursdays are reserved for beginner and intermediate trainings supervised by more experienced members of the club. Tuesdays are dedicated to trail running.
Monday: Endurance session (8-11km) with short VMA series (30s/30s or 1min/1min) – Advanced level
Tuesday: Trail running in the Jura
Wednesday: Track session in St Genis with our coach (every 2 weeks). If you go directly there, training starts at 12h20.
Thursday: Short accelerations alternating with slow running – Beginners and Intermediate level
Friday: High intensity training with 15-20min warming up and then 5,10 or 15min series at ventilatory threshold - Advanced level