Concept
The CERN Road Race has been held every year since 1980 in the West Area of the Meyrin site, and is open to everyone working at CERN and their families. 
It comprises 3 laps of a 1.8 km circuit, which makes for a total distance of (5.44+/-0.05)km. 
Children (15 years or younger) have their own race of 1.8 km over 1 lap.
The adult race is run on a handicap basis, by staggering the starting times. All runners cover the same distance and those finishing the course receive a souvenir prize, financed by a registration fee. There are runners of all speeds, times have ranged from under 17 to over 34 minutes. 
There are trophies for Women's and Men's categories in the Seniors and Veterans I ( > 40 years) and II ( > 50 years) age groups, as well as for age/performance and for the best family (2 or more members, scored on best parent + best child). New this year : a trophy will be given to the best relay teams participating to the road race.
Circuit
The circuit runs along the roads Gregory, Fermi, Arago, Schrödinger, Perrin and Gregory, to be run three times for adults, and once for children.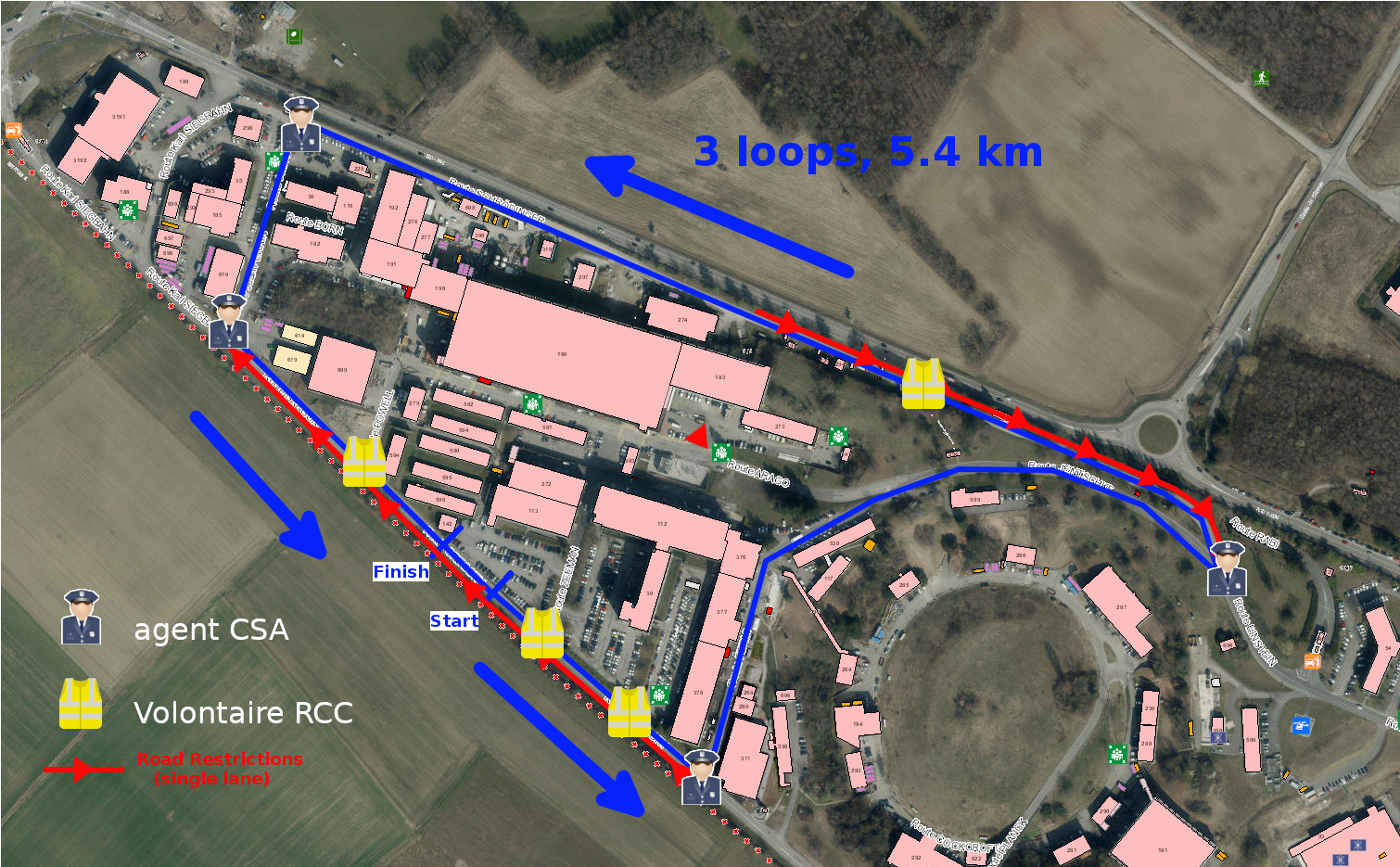 Inscriptions
Runners (or their representatives) will need to log in with their CERN username/password to register. If you do not have a registered CERN account, please first register your e-mail address at https://account.cern.ch/account/Externals/RegisterAccount.aspx
Runners will need to have access to the CERN site of Meyrin on the race day. In case they do not have it, they need to fill an access request by going to this page at least 48h before the race : https://cern.service-now.com//service-portal/report-ticket.do?name=cern-club-access&se=cern-club. They will then be able to enter CERN on the day of the race, using entrance B, provided that bring an ID and a printed copy of the e-mail confirming the access authorisation.
Entry Fee
An entry fee of 10 CHF per runner is payable when the number is collected. Children enter free
The distribution of the race numbers will be on the day of the race between 12:15 and 13:00 in the Main Building.
Categories
Junior categories
There is no age specific classification, only a boy category and a girl one. All participant start together.
The best 3 boys and girls receive a special cup or medal. All participants receive a small medal.
Adult categories
Prices (cup/medals) are given to the best 3 times in the following categories :
Senior Women and Senior Men: < 40 years old
Veteran 1 Women and Veteran 1 Men: < 50 years old
Veteran 2 Women and Veteran 2 Men: no age limit
Best relay race teams: team a at least 4 people who ran the last realy race in the same team
Special categories
Extra special prices are given to :
The best 3 families: classification is done on the best parent rank added to the best child rank (in their respective categories). Lowest one wins and in case of equality, the child rank makes the difference
The Age/Perf for Men and Women: the age/perf score is the addition of 3 points per year above 28 and 1 point per 5s under 24mn for men and under 30mn for women
Programme
12:15 – 13:00 Distribution of dossards
17:45 – 18:15 Final distribution of dossards
18:00 Traffic restrictions in place
18:15 Instructions for runners
18:20 Start of junior race
18:45 Start of senior race (first runners)
19:25 End of race
19:30 End of traffic restrictions
19:30 – 20:00 Food + drinks
20:00 Results and prize giving
20:30 End